OS1 Surveyed Nearly a Quarter of I-SS Employees. Here's what we found.
Our survey found 76 percent of I-SS employees in the survey prefer opening schools under Plan C, or online-only instruction.
Here's a look at how respondents favored Plan B and Plan C as separated by the grade levels in which they work. Elementary school professionals tend to favor in-person instruction under Plan B more than middle or high school professionals, but all exhibit a majority preference for Plan C.

The majority of classroom teachers (when pulled out as a group) prefer opening schools under Plan C, but that preference is smaller than the overall numbers found in the survey. Non-instructional staff favor Plan C, and of the 14 school-level administrators who responded, all but one prefer Plan C.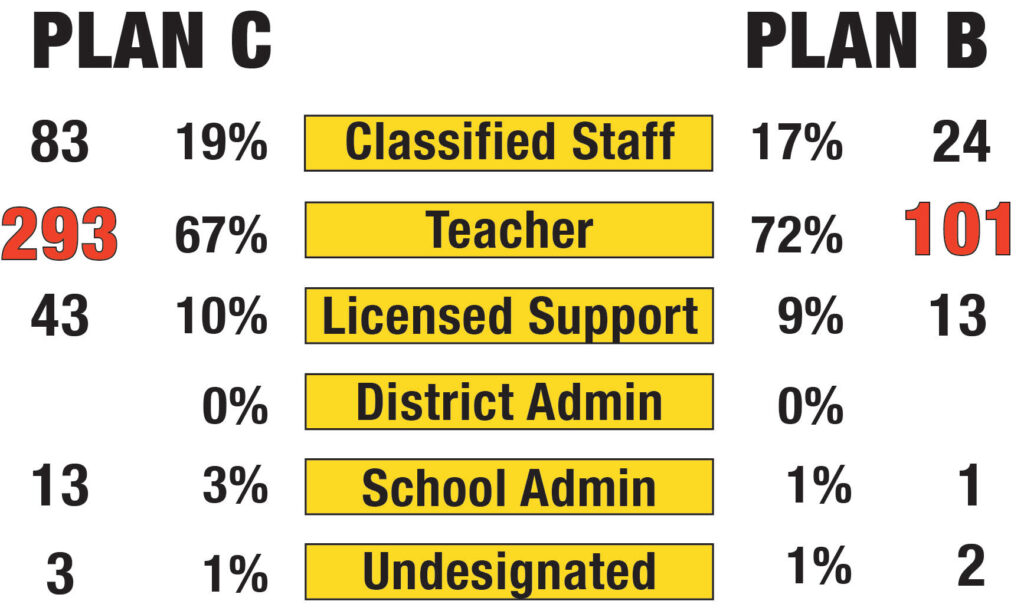 Employees who prefer Plan C share an abiding concern that re-opening schools will contribute to further spread of COVID-19.
About 69 percent of survey respondents felt confident or very confident that teachers would be able to provide a quality education to students if schools re-open under Plan C.
Just less than a quarter of respondents demonstrated support for Plan B, or re-opening under limited face-to-face instruction. The majority of those respondents, however, answered that neither they nor those in their households had medical conditions that might compromise their well-being if schools returned to in-person instruction.
---
Here's what educators said…
Several survey respondents took advantage of the opportunity to share their personal thoughts in the survey's open-response form. The answers provided showed a strong level of concern for students and their education. Other themes included worry about employee and student health and frustration with the I-SS Board of Education over not being heard.
Here are some of the most representative responses submitted:
"If even one of my students got the virus, I would be heartbroken and if one died, I would have a hard time living with myself."

— Middle school classroom teacher
"How could we validate losing one child when we can safely educate them at home?"

— Elementary school classroom teacher
"My children are dying to go to school. They want to see their friends and see their teachers. They want to be normal. And as a teacher, having kids in person would feel like a treat. However, it just doesn't feel safe. Not yet. I would like to see us start virtually and then reassess the situation every 3-4 weeks.

– Middle school classroom teacher
My family, me, my 2 sons, my husband. They are my world, the possibility that this virus "could" kill them. That is my fear…watching one or all of them getting sick and then not being able to be with them, and then they are gone.

— Licensed support staff (All Grades)
A pandemic is a once in a lifetime event. We must set aside expectations of what is "normal." We are not living in normal times. […] Wishing it was otherwise and rushing to "return to normal" is not wise. It does a disservice to our educators, para-professionals, and most of all, our students.

— Middle school classroom teacher
About the Survey
Our Schools First conducted a survey open to all employees of Iredell-Statesville Schools in an effort to better understand their thoughts and opinions regarding this year's school opening. We conducted our survey after recent reports to the I-SS Board of Education suggested an overwhelming majority of teachers wished to return to face-to-face instruction–a finding immediately contradicted by anecdotal evidence.
OS1 published the survey on its website and promoted it via social media. The survey was open for slightly more than 24 hours.
Our survey collected responses from 576 I-SS employees, which represents nearly a quarter of the district's workforce. Respondents were given the option of providing their names or email addresses; more than 120 opted to do so.
It is important to note that the 123 survey responses that included validated personal identification tracked very closely to the overall survey responses, and did not portray a statistically significant difference of opinion.
OS1 recognizes that this survey instrument lacks certain measures to ensure complete validity, however, analysis of our data suggests that the survey was not significantly manipulated in an effort to sway results and therefore warrants further consideration.